Iolo gives talk on his fascinating career to boost Kath's Antarctic expedition
Springwatch presenter Iolo Williams visited Coleg Meirion-Dwyfor to help raise funds for former student Dr Kath Whittey, who is on her way to Antarctica as part of the Homeward Bound project
TV presenter Iolo Williams visited Coleg Meirion-Dwyfor's Dolgellau campus recently to give a talk on his career in conservation.
The event, which was open to the public, helped raise money for former student Dr Kath Whittey's expedition to Antarctica.
Kath studied A-levels at the college, and is currently on her way to the world's coldest continent after being selected for a research expedition with the Homeward Bound project.
The Marine biologist has so far raised more than £10,000 of her £15,000 target to fund her 'Race to Antarctica', and the coffers were boosted by Iolo's visit to her home town of Dolgellau.
The Springwatch presenter gave a talk on his fascinating career, from his early days working for the RSPB, to his experiences in countries across the globe. Iolo also drew the raffle and awarded the prizes, which included photographs donated by Dragon Snap Photography, a bottle of Penderyn whisky and a bottle of rum.
Kath's mum Barbara Morgan, a lecturer at Coleg Meirion-Dwyfor, said: "A humorous and entertaining evening was had by all with Iolo Williams' 'Career in Conservation' at Coleg Meirion-Dwyfor.
"The audience was treated to anecdotal snippets from his career, interspersed with such essentials as what to do if attacked by a grizzly bear, and intimate observations of the digestive movements of mountain gorillas!
"We heard tales from his childhood and his career to date. We followed his progression from watching red kites and hen harriers near his home in mid-Wales, to those exotic encounters with grizzlies and gorillas.
"He shared a lifetime of experiences dedicated to protecting our planet's precious diversity."
Barbara added: "Iolo has generously donated some of his time to support Dr Kath Whittey in her 'Race to Antarctica' project - ultimately a cause close to his and everyone's heart.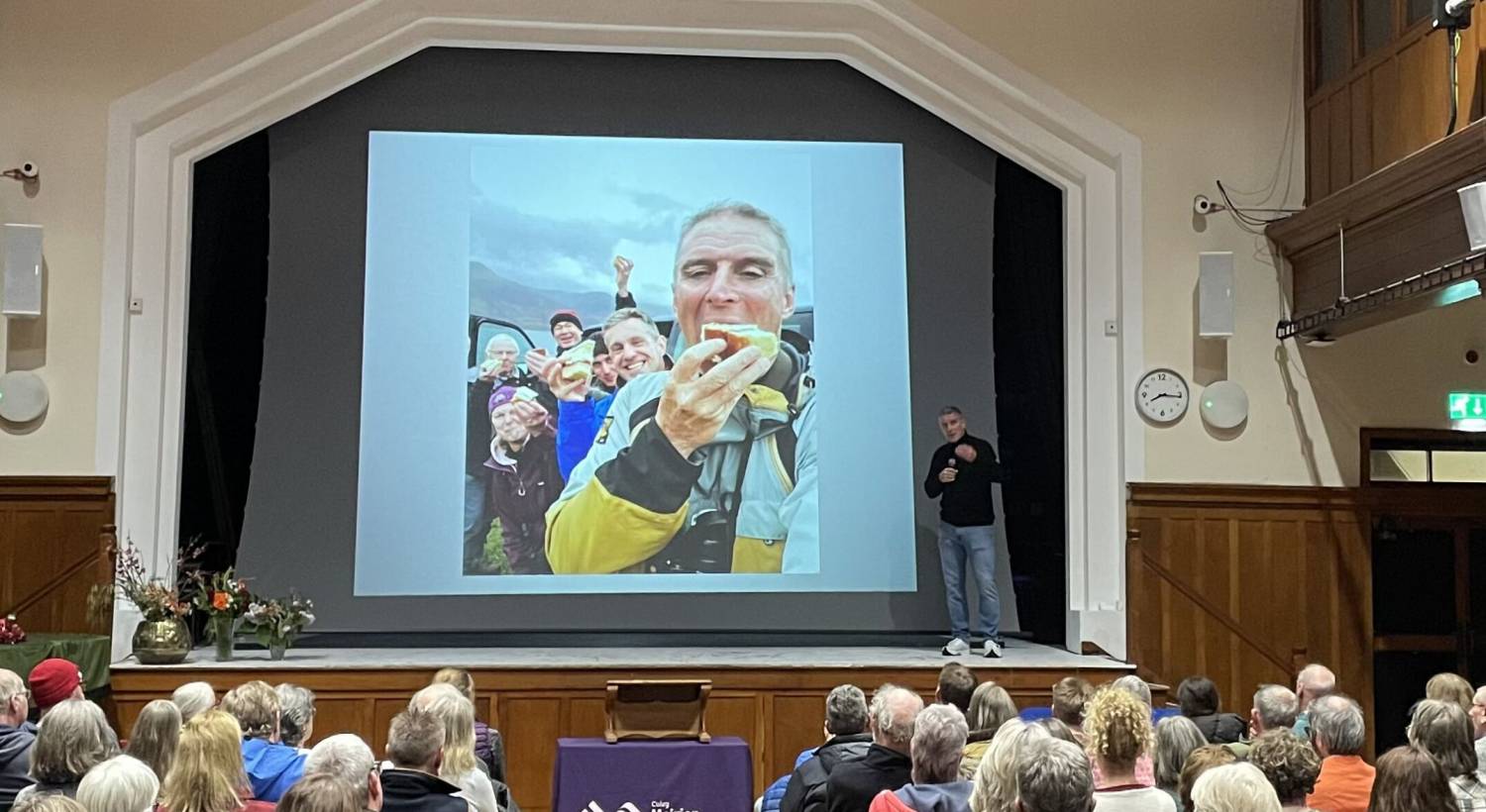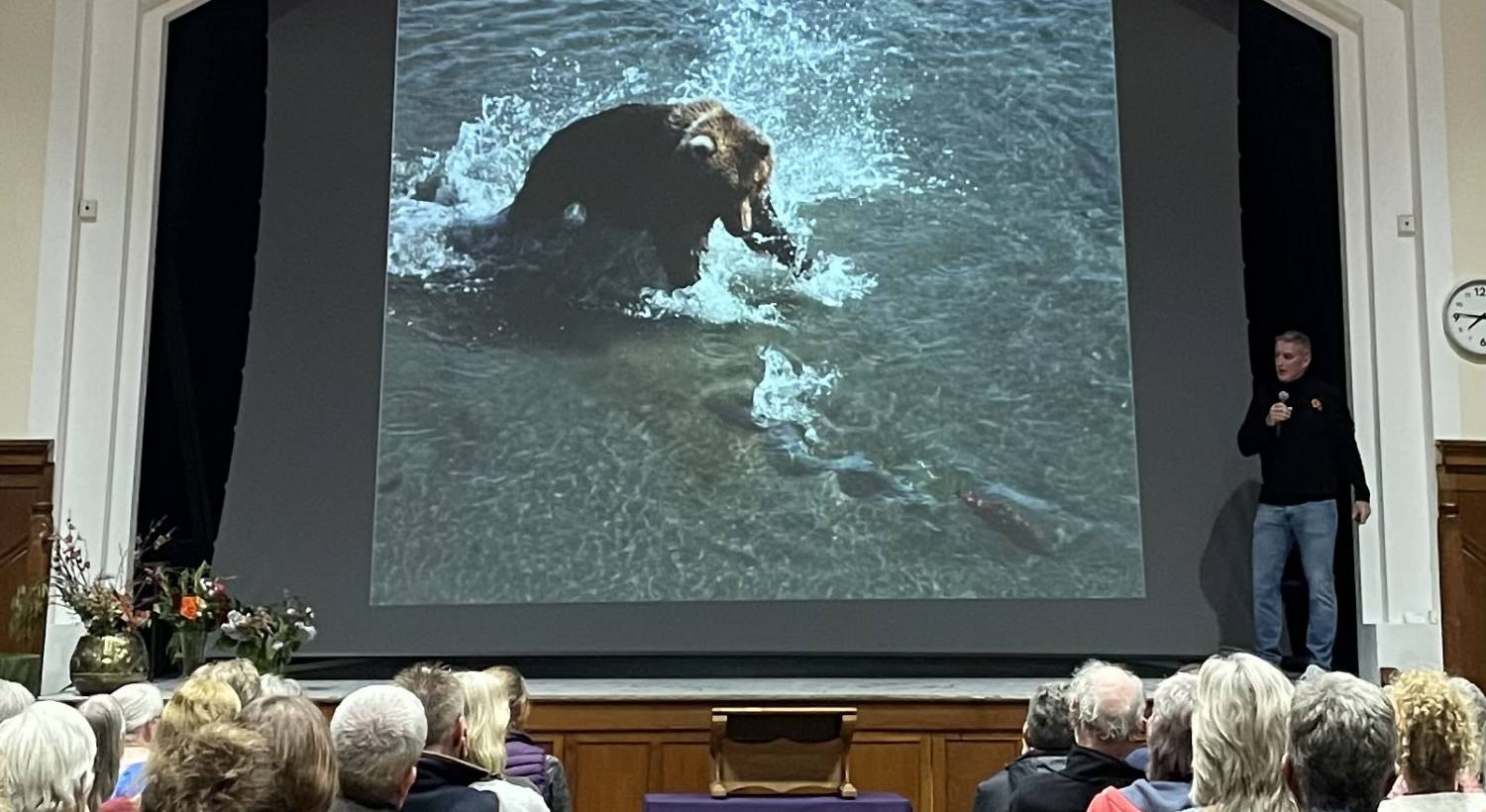 "As ever, thanks to the 'Race to Antarctica' team, Gwin Dylanwad Wine and Dragon Snap Photography, and thanks to those who donated prizes throughout this fundraising period."
Kath is one of 89 women from around the world taking part in the Homeward Bound expedition.
All have backgrounds in STEMM (science, technology, engineering, mathematics, and medicine) and were selected for the project based on their outstanding potential to lead and create better outcomes for the planet.
Kath met her fellow ambassadors in Ushuaia, at the southernmost tip of Argentina, where they took part in workshops before setting off for Antarctica on November 3.
A postdoctoral researcher at Bangor University, Kath works with fishers to understand trends in crustacean fisheries in Wales. Having studied A-levels at Coleg Meirion-Dwyfor, she also worked part-time on the college's BTEC Level 3 Sports and Outdoor Activities course before taking on her current role.
She has been supported towards her expedition by a team of 'Race to Antarctica' fund-raisers - including her brother Rob Whittey, and friends Osian Lewis-Smith and Rabia Ali.
All three are former Coleg Meirion-Dwyfor students and were at the Dolgellau campus for Iolo's visit. Rob has recently completed a masters degree in Artificial Intelligence, Osian achieved a first-class honours degree and masters degree in music, and Rabia has graduated with a law degree from Cardiff University.
For more information about Dr Kath Whittey's Race to Antarctica, or to make a donation, click here.
For information on studying A-levels with Grŵp Llandrillo Menai, click here.
Pagination