About Us
Grŵp Llandrillo Menai was established in 2012 as a result of mergers between Coleg Llandrillo, Coleg Menai and Coleg Meirion-Dwyfor. It employs 2,000 staff and delivers courses to around 21,000 students, including over 1,500 higher education students, across Anglesey, Conwy, Denbighshire and Gwynedd.
The Grŵp aims to support the economy of North Wales by equipping local people with the skills and qualifications needed to ensure the competitiveness and success of the region. The Grŵp's wide range of courses, high quality learning experiences, first-class facilities and talented staff all contribute towards the achievement of these goals.
Additional opportunities to study locally for degrees and professional qualifications enable more young people and mature learners to achieve their potential. A University Centre at the Rhos-on-Sea Campus provides fabulous facilities for the Grŵp's Higher Education students.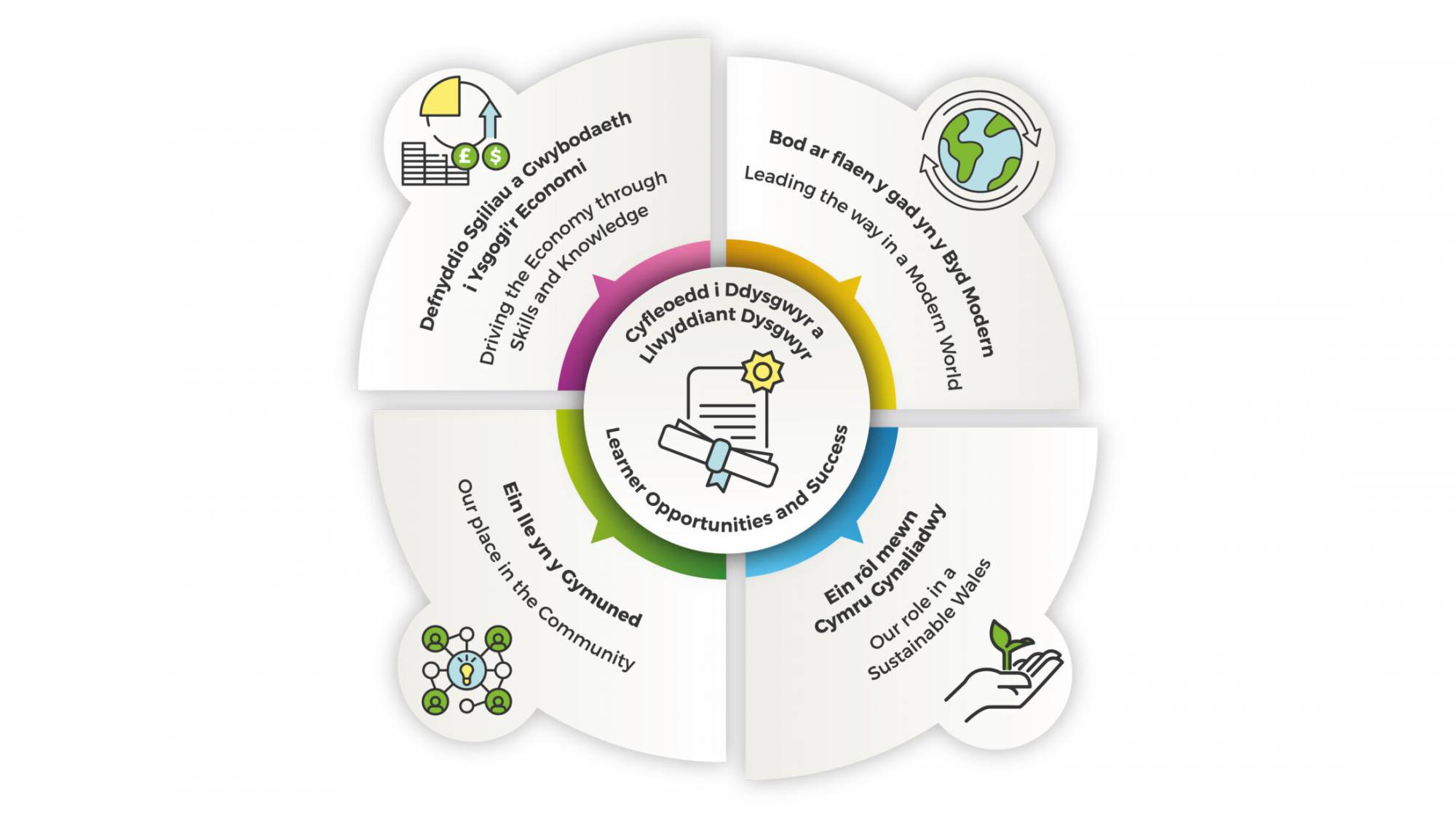 Strategic Plan
Our plan builds on the Grŵp's success to date by incorporating the learning from the challenges of the pandemic, providing a strong focus on environmental issues and truly promoting innovation. We are committed to being the leading Further Education provider in Wales and beyond.
Our mission of 'Improving People's Futures' captures what we are about as a further education organisation. Although delivering successful qualifications is essential to us, we also make a significant impact on social cohesion and economic development. We aim to be at the heart of our communities and to be the skills engine that drives the success of North Wales.

Dafydd Evans, Chief Executive Officer
Dafydd Evans took over as Chief Executive Officer of Grŵp Llandrillo Menai in September 2016, having previously been Principal of Coleg Llandrillo (August 2014 - August 2016) and Principal of Coleg Menai (July 2009 - August 2014).
He is a qualified CIPFA Accountant, having graduated in Statistics at University of Wales Aberystwyth. As an Associate Assessor for ESTYN, he has undertaken inspections on several colleges and has also in the past been seconded to work for the Welsh Assembly Government to undertake developmental work on resources allocation and reconfiguration of the post-16 sector in Gwynedd and Anglesey.
Aled Jones-Griffith, Principal of Coleg Menai and Coleg Meirion-Dwyfor
Aled Jones-Griffith has worked in the further education sector for fourteen years: he was a faculty director at Coleg Menai and an Assistant Principal at Coleg Meirion-Dwyfor before being appointed as Principal for Coleg Menai and Coleg Meirion-Dwyfor in 2018.
Previous to his career in further education, Aled held a number of managerial posts in a variety of sectors, including the role of Chief Executive of the Nant Gwrtheyrn National Language Centre for four years. He also served as a member of the BBC Audience Council for Wales over two terms. During this period he was privileged to deliver a lecture to the Smithsonian Society in Washington DC on the History of the Welsh Language.
Aled graduated from Bangor University with an honours degree in Environmental Studies, and has since been awarded Post Graduate Certificates in Countryside Management and Community Development.

In addition to his role as Principal, Aled has overall responsibility across Grŵp Llandrillo Menai for Adult and Community Learning. He also represents the Grŵp on the Creative Wales Film & TV Skills Stakeholder Group and the Creative North Wales Steering Group.
An avid sports enthusiast, Aled has held various roles in his local football club over the years and he takes great pleasure in seeing young people achieving their potential and goals in all aspects of their lives. He makes it his priority to ensure that they have every possible opportunity and support to achieve success.
Lawrence Wood, Principal of Coleg Llandrillo
Lawrence Wood is a graduate of the Royal Academy of Dramatic Art and after starting work in Further Education at Yale College in Wrexham as a part-time Lecturer, he soon moved into a management position as a head of the Performing Arts Department.
Lawrence has held a number of management roles at Yale College including Director of Faculty and Assistant Principal. As Assistant Principal, Lawrence was part of the senior team that supported the merger of Yale College and Deeside College that formed Coleg Cambria. In June 2016 Lawrence was promoted to the role of Deputy Principal at Coleg Cambria.
Lawrence has held responsibility for Work-Based Learning, Adult Community Education and Further Education, as well as many cross-college functions including Quality, Teaching and Learning Development, Estates and Marketing.
Lawrence has also worked as a Peer Inspector for Estyn. Lawrence was appointed to the role of Principal of Coleg Llandrillo in November 2016.
Dr Paul Bevan, Executive Director - Commercial Development
Paul Bevan has worked in the Education and research sector for over 15 years. After completing his doctoral studies at the University of Wales, Aberystwyth, Paul joined the National Library of Wales where he held a number of senior roles until joining Jisc to lead the infrastructure developments in Wales and the relationship with Welsh Government.
In 2014, Paul moved from Aberystwyth to North Wales to take up a role at the University of Liverpool, before moving to Manchester Metropolitan University as Director of Strategic Projects. Paul joined the Grŵp in 2019 as Executive Director for Commercial Development – leading the Grŵp's Busnes@ commercial, regional, and employer focused delivery.
Sharon Bowker, Executive Director - Corporate Services
Sharon Bowker studied languages and sciences before qualifying as a chartered management accountant (CIMA) and has worked for large manufacturing companies such as BASF and Tetra Pak, before moving into the education sector in 2005.
Sharon has held several senior roles in both FE and the Academy sectors in England, with responsibility for support services areas including estates, catering, marketing, HR, finance, IT, admin and funding, and has experience of college mergers and managing multi-site capital developments.
Sharon joined the Grŵp in 2022 as Executive Director for Corporate Services.
James Nelson, Executive Director - Academic Services
James Nelson is an ex-student from Coleg Llandrillo, where he studied a National Diploma in Business Studies, after which he progressed to Manchester Polytechnic and graduated with a degree in Business & Finance.
Following graduation, James was successfully appointed as a Lecturer in IT, where he achieved MCSE, CCNA accreditation and developed innovative Microsoft and Cisco Academy programmes in Higher Education.
James then became the Quality Manager at Coleg Llandrillo, followed by promotion to the Director of Quality and Curriculum, where he led on the implementation of Grŵp quality, planning and staff development processes in the merger with Coleg Meirion Dwyfor.
James is a QAA Higher Education Review (HER) Peer Reviewer and led Grŵp Llandrillo Menai through its HER review in 2016, which resulted in a commended judgement for enhancement and 6 examples of good practice.
In 2017, James was appointed Executive Director Academic Services with Grŵp responsibility for Skills, Quality & Performance, Curriculum Planning, Learning Support, Marketing, Learner Services and Libraries.
In 2017, James led the institution as Nominee through the successful FE Inspection, which resulted in 8 Excellent judgements 7 Good judgements, and two case studies of "sector leading practice." James is an Estyn Peer Inspector and has undertaken a number of Inspections of FE Colleges and Work Based Learning Training providers.