Governance
On merger in April 2012, the Corporation Boards of Coleg Menai and Coleg Llandrillo were reconstituted into one to act collectively for Grŵp Llandrillo Menai.
College Governor? - Sounds like you?
Are you: interested, committed, and curious about local further and higher education?
Grŵp Llandrillo Menai are currently seeking new Board Members interested and keen to contribute to one of the greatest educational success stories in Wales. Grŵp Llandrillo Menai is responsible for one of the largest College networks in Wales through Coleg Llandrillo, Coleg Menai and Coleg Meirion Dwyfor, offering Further and Higher Education, Work Based Learning and Adult Community Learning with superb quality and financial profiles.

Governors attend regular Board meetings and participate in Committees. The role is voluntary, training is provided, and travelling expenses will be met. Meetings are held mostly online, during child and work friendly hours, with ample opportunities to meet together during the year to really see what's going on at your local college.

We particularly welcome applications from candidates who speak languages other than English and from under-represented groups including ethnicity, gender, transgender, age, disability, sexual orientation, or religion, in line with our Equality Opportunities policy.

To find out more please contact our Director of Governance t.prosser@gllm.ac.uk for an informal discussion.
About the board
The Board consists of a total of 18 members, headed up by Chair, Dr Griff Jones and Vice-Chair Alun Thomas. The Board meets regularly throughout the year dividing its work between four sub-committees, namely a Finance & Resources Committee, Chair's Committee, Audit & Risk Committee and a Curriculum, Students and Standards Committee. Drawing its membership from a wide experience pool, the Board includes unpaid volunteer representatives from business, local authorities, community, staff, students, along with a number of co-opted members to provide a full complement.

The Board is legally responsible for determining the "educational character and mission" of the Grŵp whilst ensuring that there are effective means of knowing whether it is being properly managed to fulfil its mission, ensuring the effective management of resources to ensure its solvency whilst safeguarding its assets; approving annual estimate of income and expenditure; appointing, grading, suspension, dismissal, and the determination of pay and conditions of service of senior post holders and the Director of Governance, and setting a framework for the pay and conditions for all other staff.

Current Governors:
Dr Griff Jones (Chair)
Alun Thomas (Vice-Chair)
Andrea Adams (Teaching)
Dr Roy Bichan
Andy Billcliff
Dafydd Evans
Dilwyn Evans
Dr Gwyn Jones
Peter Lavin
Chris Morgans
Hedd Pugh

Marion Pryor
Prof. Carol Tully
Brian Woosnam (Non-teaching)
Bethan Williams Price
SU President
HE Officer
Downloads: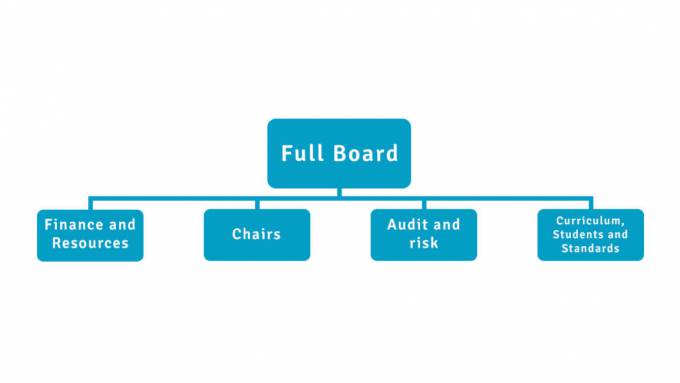 The Board
Handles standard objectives outlined in the Instrument and Articles of Governance collecting and authorising recommendations and findings from its sub-committees. Provides final sign-off on statutory finance, audit and quality items and all other matters as required. Holds the power to form statutory "Special" and "Reporting" Committees as necessary. Directly monitors regeneration, work-based learning, employer engagement and economic development activity (as below) plus associated risk referral to ARC.

Finance & Resources Committee (FRC) (download):
Handles Finance, Corporate Services, Staffing Resources & Policy, Estates functions, Work Based Learning, Health and Safety, associated risk referral to ARC.

Chairs Committee (CC) (download):
Acts as a point of reference for strategy, urgent general business as necessary, search, remuneration, governance, and plus associated risk referral to ARC.

Audit & Risk Committee (ARC) (download):
Handles statutory internal and external audit requirements and reporting, plus overall risk monitoring.

Curriculum Students & Standards Committee (CSSC) (download):
Handles curriculum planning, quality assessment, partnerships and students, plus associated risk referral to ARC.
Local College Councils:
Leading best practice in the sector, Local College Councils have been developed with a primary purpose of sustaining local representation, whilst promoting close relationships with staff, students, local authorities, education partners, wider stakeholders and businesses on a specialised basis across a very diverse geography. Each College Council is chaired by a Governor to focus local interests through a committee of select area representatives, allowing matters to be aired which are specific to each area of the Grŵp's operations, thereby promoting ownership, participation and integration with the community and at the same time providing a direct voice to the Grŵp Board. Council chairs are:
Hedd Pugh (Dolgellau)
Dr Gwyn Jones (Pwllheli)
Hedd Pugh (Glynllifon)
Dr Griff Jones (Llangefni)
Alun Thomas (Rhos-on-Sea)
Andy Billcliff (Rhyl)
All College Councils are administered by Caroline Jones (Grŵp Clerking Officer).
Downloads: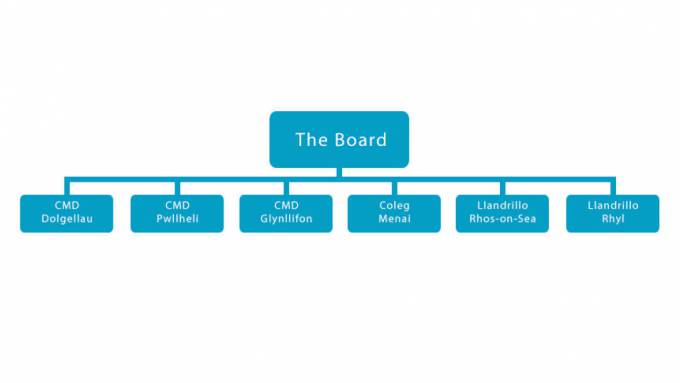 What do we expect from our Governors?
Thinking of becoming a Governor? Please contact the Director of Governance for further assistance and advice.

All Governors are expected to complete an annual Governance declaration, and agree to be bound by a code of conduct and ethics. The Governance Code below includes criteria for eligibility, a code of conduct, and a handy summary of the Board's duties & powers.
The way we report:

Useful Governance links:
Contacts
The Director of Governance and Information oversees the workflow of the Board, and acts as independent FOI, Data Protection and Complaints Officer to the Grŵp, alongside being as Company Secretary to the Grŵp's commercial operations. Complementary to the role, Toby is a past Chair of the Welsh FE Clerks National Network.

A former Town Clerk, Toby has worked at Coleg Llandrillo for over two decades both as a lecturer and manager. Toby is tasked with keeping the Grŵp firmly in touch with national governance research and development across the sector.
Group Complaints Procedure
The complaints procedure can be found on our policies page.
Governance, Data Protection, FOI and Complaints:
Toby G. Prosser
Coleg Llandrillo
Ffordd Llandudno
Llandrillo-yn-Rhos
LL28 4HZ

07936 930569
t.prosser@gllm.ac.uk
Local College Councils and Data Protection Support:
Caroline Jones
Coleg Meirion-Dwyfor
Penrallt
Pwllheli
LL53 5EB

07753 397977
caroline.jones@gllm.ac.uk
Freedom of Information
Grŵp Llandrillo Menai aims to operate in an open and fully accountable fashion. Amongst the wealth of information already published by the Grŵp, the FOI Act generally empowers you to seek further information from public bodies like us, as and when necessary.
The Freedom of Information (FOI) Act 2000

has been lawfully in force since 01 Jan 2005
gives everyone both in and outside the College a right of access to information held by the Grŵp and its colleges
covers all digital and print records and information held by Grŵp Llandrillo Menai whether current or archived
There are conditions and exceptions where information is not required to be released and should not be released.
Grŵp Publication Scheme
To help with our obligations under FOI, Grŵp Llandrillo Menai complies with a sector standard Publication Scheme detailing the types of information the Grŵp routinely provides to the public and how the public may access the information. It includes things like College structures and organisation, its services and procedures, practices, and guidelines. Under the FOI Act, the public has a right to ask for information which is not contained in the College publication scheme

Responsibility for Freedom of Information requests rests with the Grŵp Director of Governance.