Thousands of new students enjoy Freshers Fair events
Thousands of learners attended Freshers Fair events at Grŵp Llandrillo Menai's campuses over the past 10 days.

More than 5,000 new students enrolled with the Grŵp this September, and events were held in Bangor, Llangefni, Parc Menai, Rhos-on-Sea, Rhyl, Glynllifon, Dolgellau and Pwllheli to welcome them as the new academic year gets underway.
Students were able to chat to representatives of dozens of clubs, charities, businesses and other organisations who could help them make the most of their time in college. They also had the chance to sample Mr Ricky's desserts, have their photos taken with Event Lounge, and talk to college staff about everything from finance and transport to sports academies.
Some of the organisations attending included Zip World, the Welsh Rugby Union, Bangor University, Wrexham Glyndŵr University, The Open University, the NHS, Army Recruitment, The Royal Navy, Mind, Childline, Careers Wales, Sextember, Barnardo's, Urdd Gobaith Cymru, Fitness First, Big Ideas Wales and CaMVA, Grŵp Llandrillo Menai's employment and enterprise agency.
There was fantastic feedback from learners, including Jason Scott, Coleg Menai's Student Union President, who said: "The Freshers Fairs were a great opportunity for students to see what is available to them during their time at college - everyone I spoke to really enjoyed attending."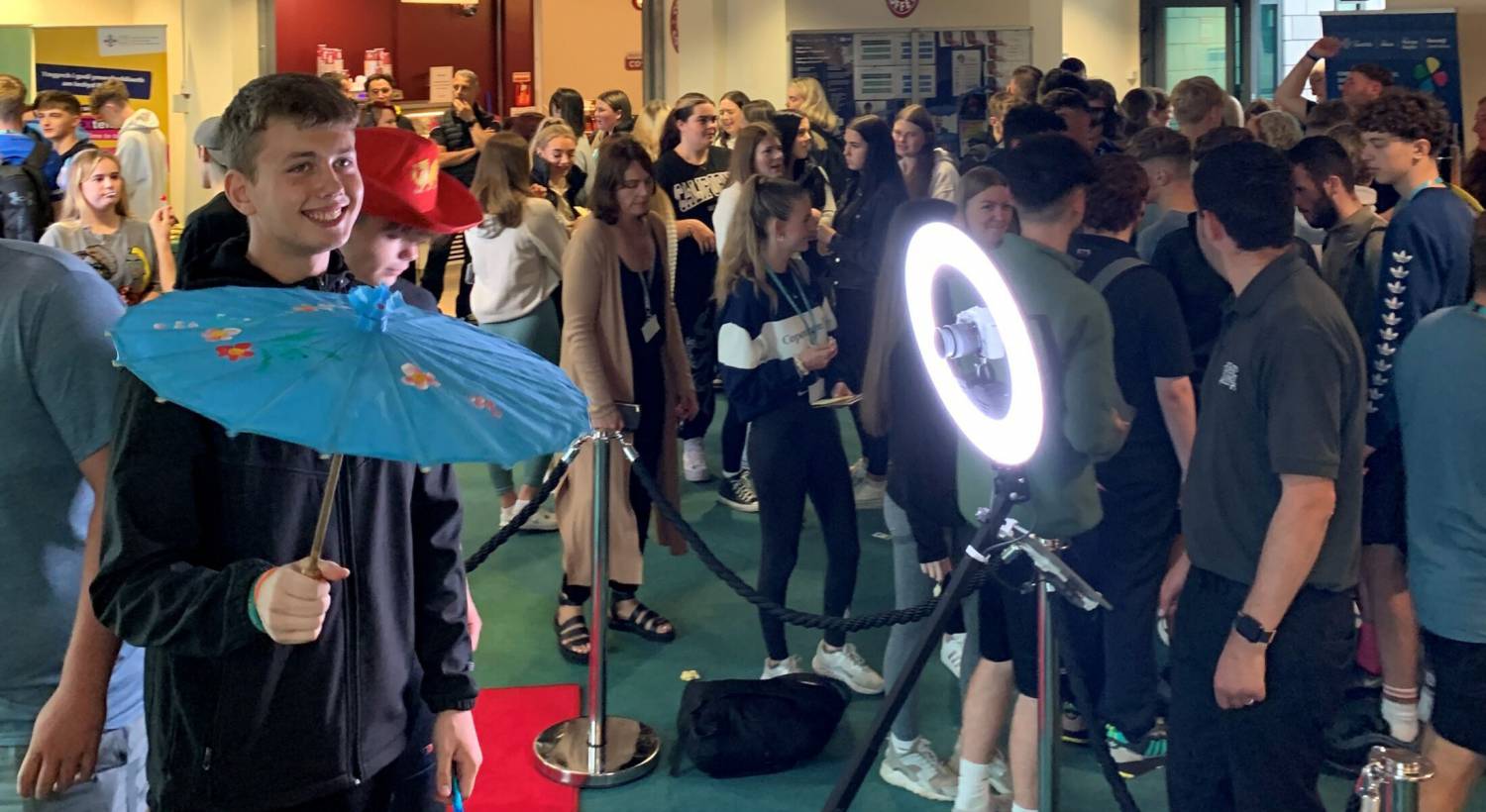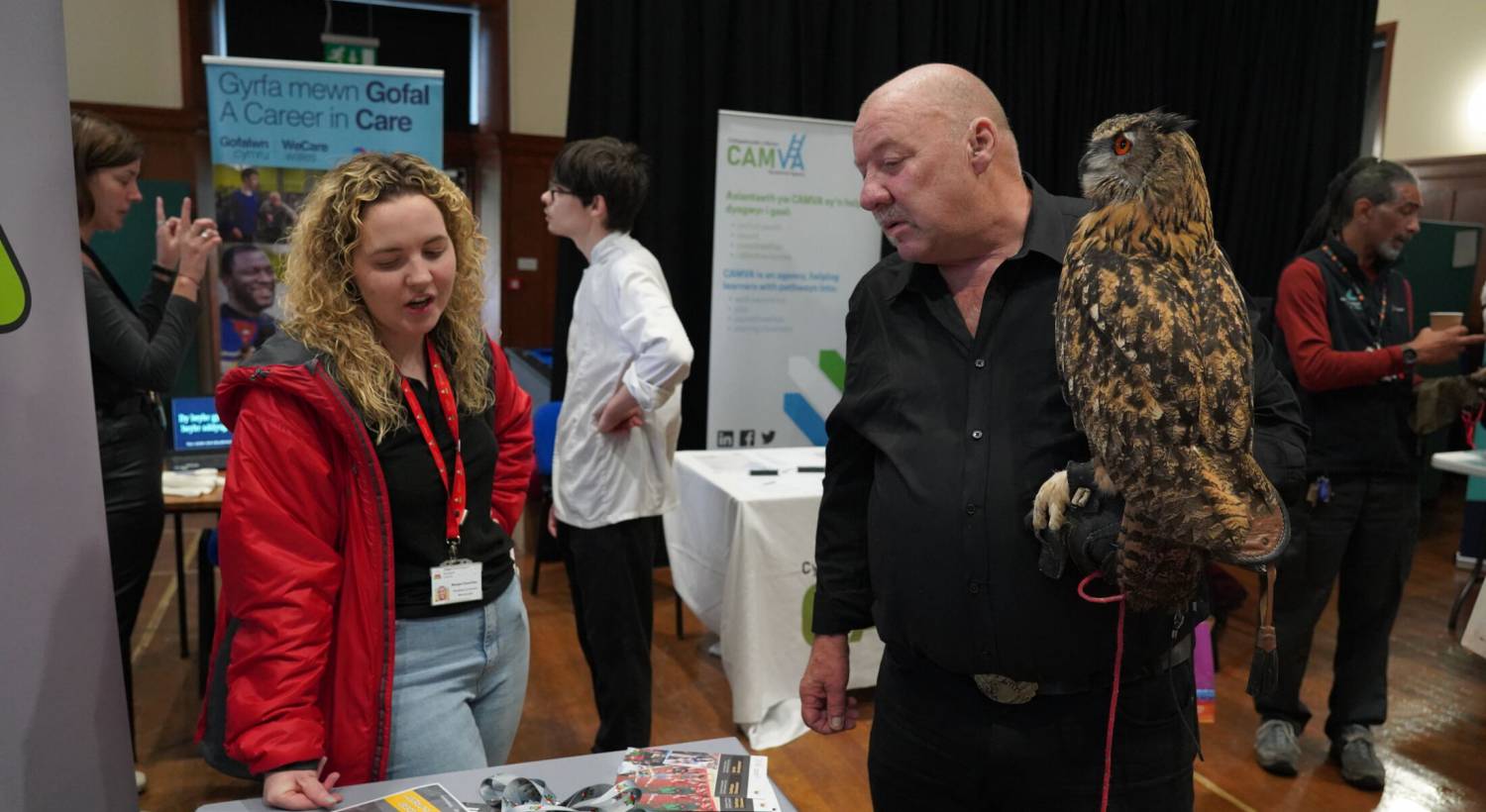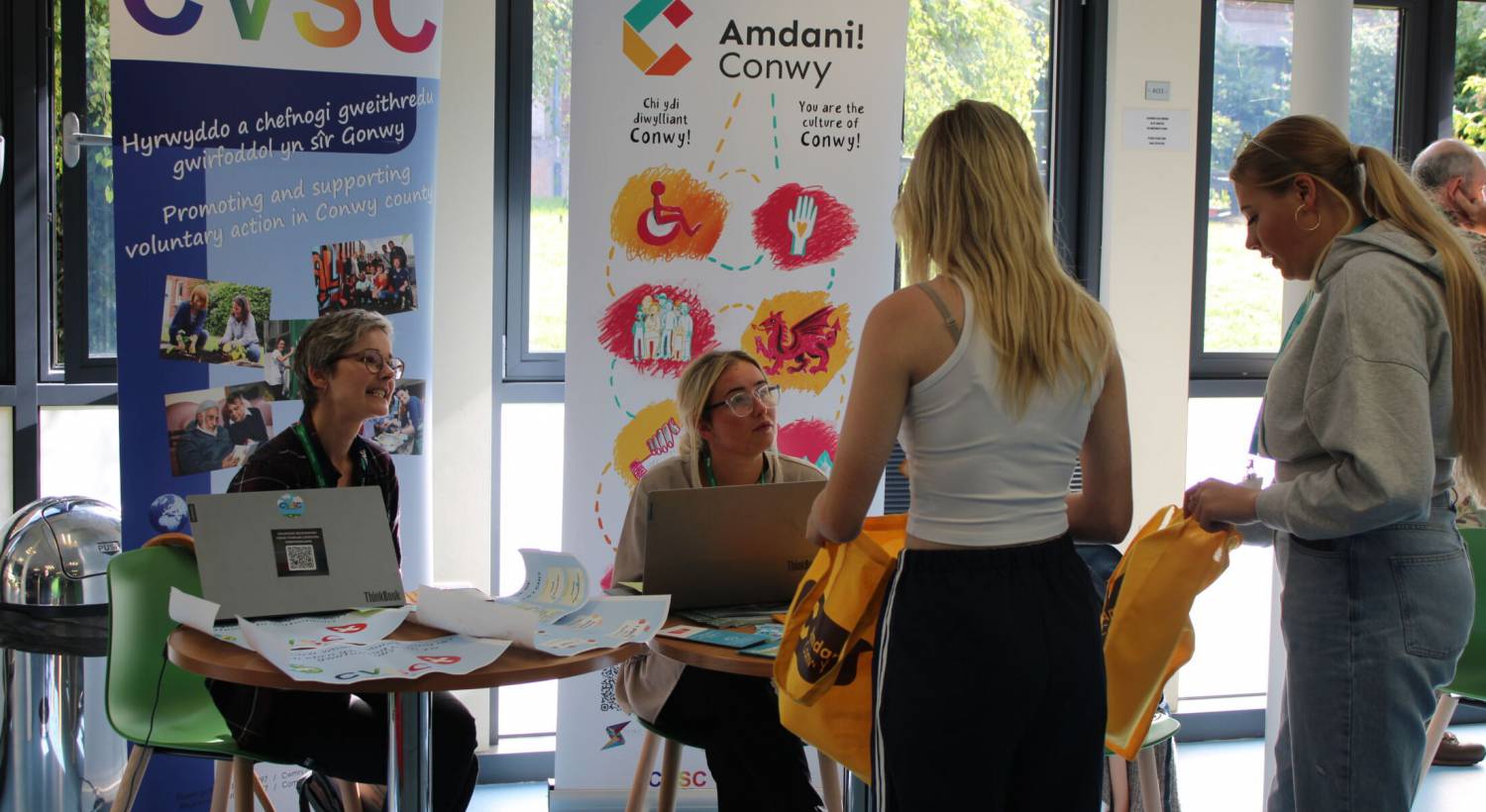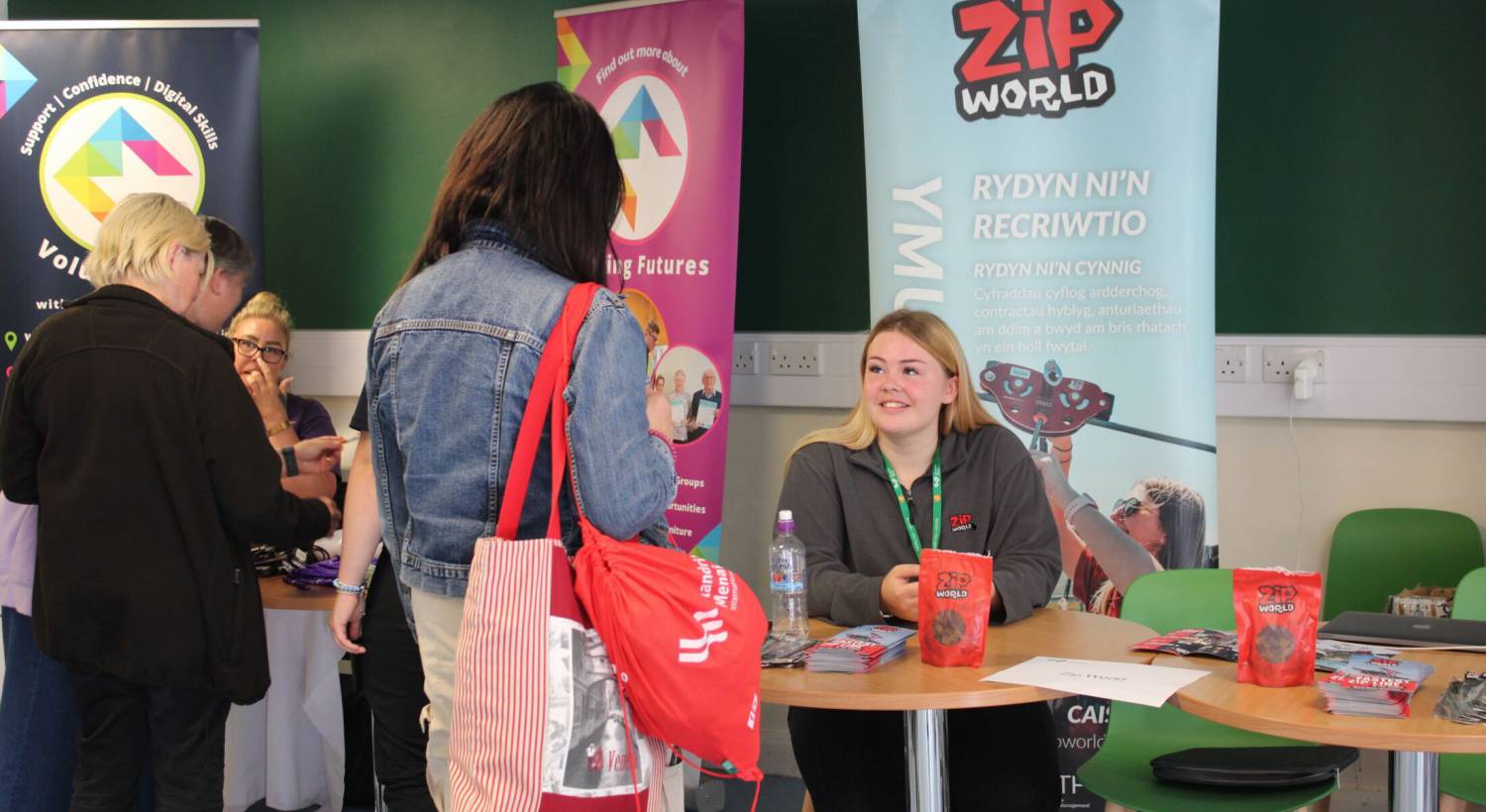 Jade Dishman, who is studying Level 3 Health & Social care at Coleg Llandrillo in Rhos, said: "This is really helpful, it's opened up a lot for us.
"We've seen so many different things - there are people to help us get work, and at the welfare stall they told us what help is available in the college at any time. That was really helpful because I didn't realise it was there. There's all sorts of things - and you get lots of free stuff!"
Joshua Wynne, studying Level 3 Performing Arts in Rhos, said: "I thought it was absolutely brilliant. There were a few booths with really useful information to help me look at stuff for the future, including Big Ideas Wales which showed me how I can be running my own career by the time I'm 20, which was really helpful."
Ellie, from Aberdyfi, who is studying Health and Beauty at Coleg Meirion-Dwyfor in Dolgellau, said: "I loved coming to the freshers fair. It was packed with really interesting companies and institutions. I'm already thinking about my future and the connections I made here today."
Organisations who had stalls at the Freshers Fair events also found it a rewarding experience.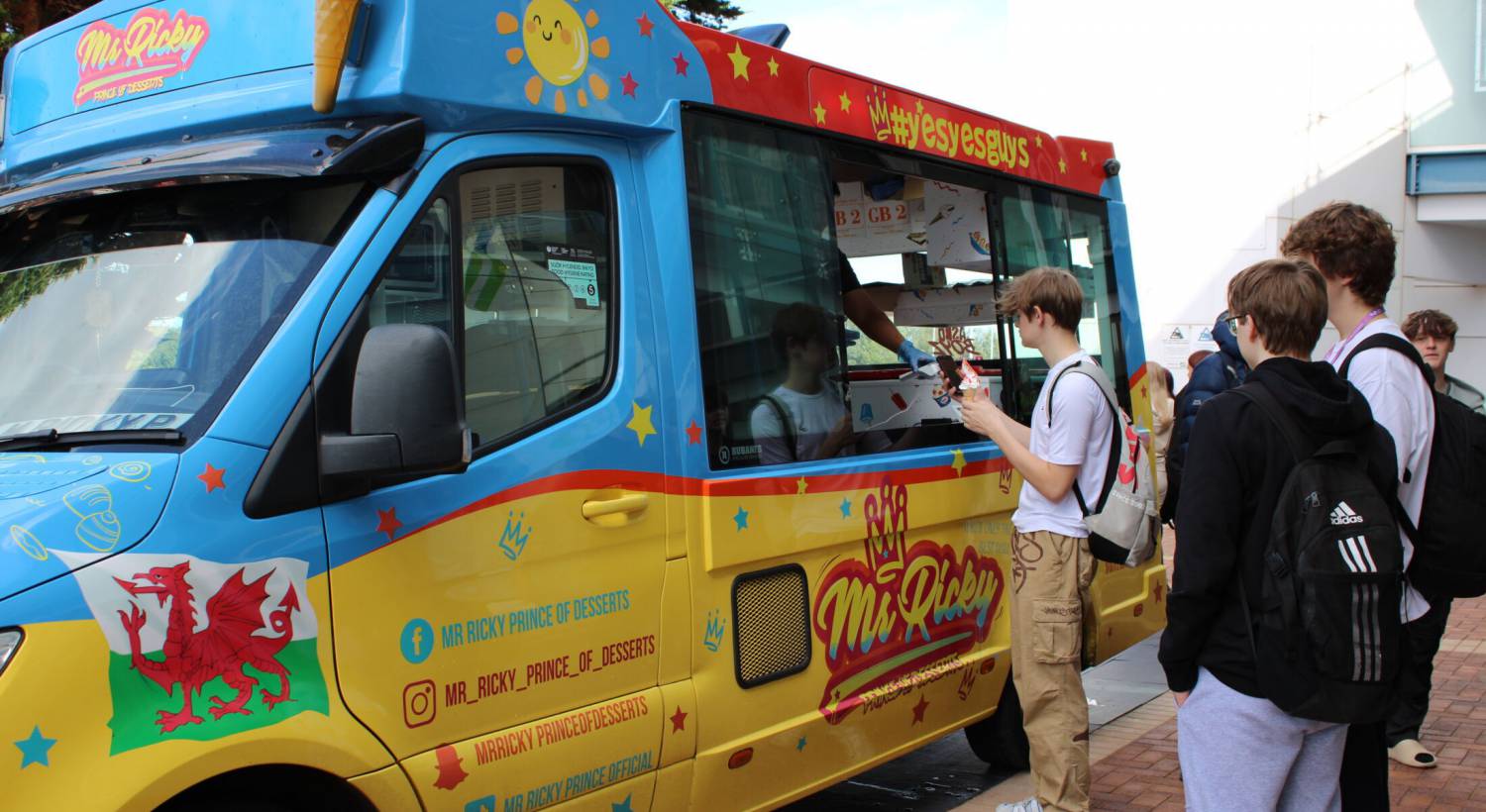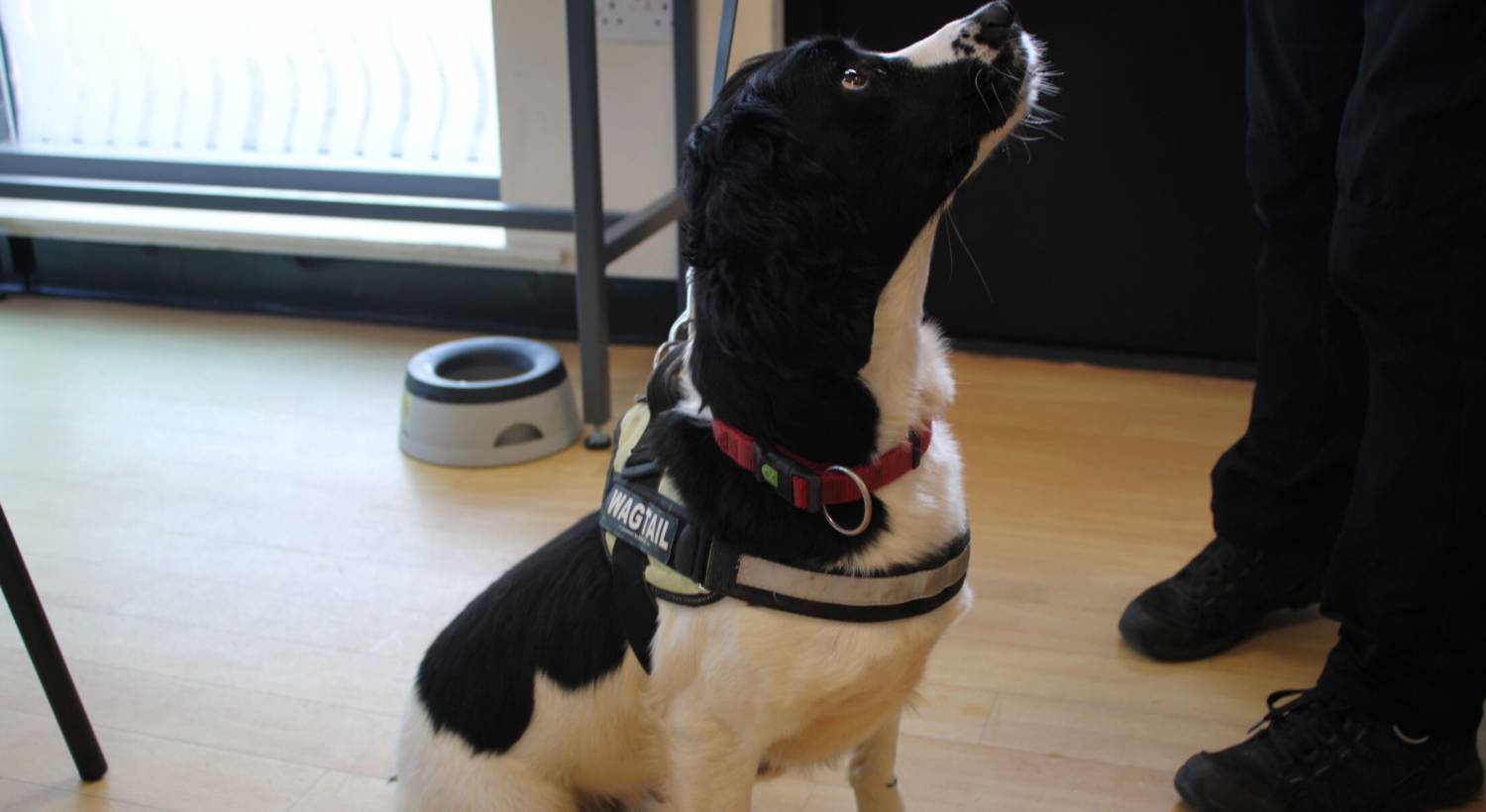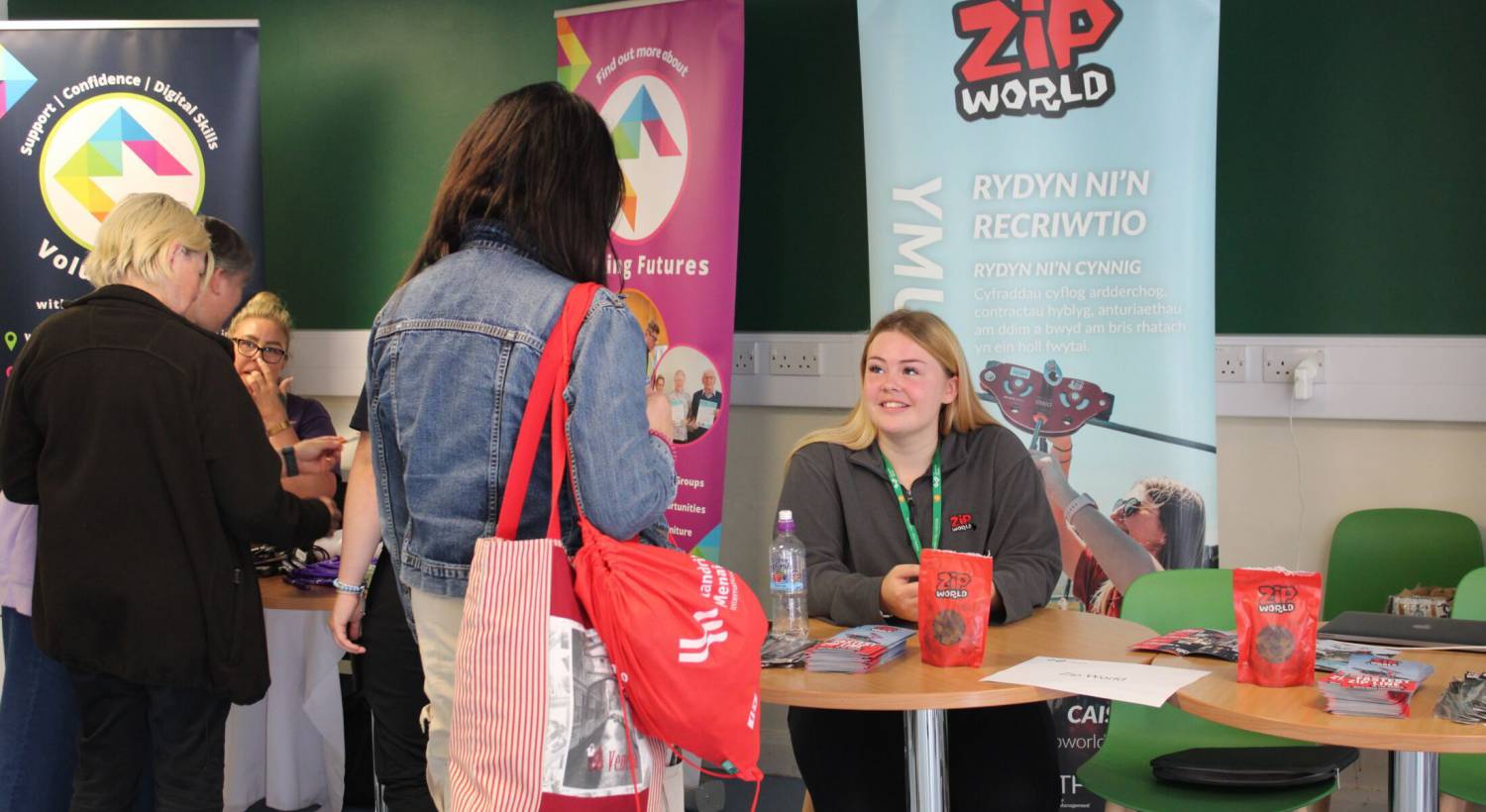 Drew Hollins-Roberts, training and recruitment coordinator for Zip World, said: "We came here to meet students to offer them the opportunity of work from January onwards.
"Coming here has been great because so many different students came to chat with me and are interested in what's going on at Zip World. It's really well organised and it's been great to be able to chat with so many people about what Zip World do. The fair's been a great success from my point of view."
Julie Stokes-Jones, lead work placement officer for CaMVA, said: "It's the first time for CaMVA at Freshers Fair. We're launching the employment and enterprise bureaus, and the response and engagement from the students has been exceptional. We've been able to speak to lots of students and will hopefully be able to support them with their employment and enterprise journeys.
"If we were not able to speak to you at the fair please visit our webpage and register for our employability instructor or enterprise officer to contact you."
Leusa Jones, branch officer of Coleg Cymraeg Cenedlaethol, said: "It's fantastic speaking to the students, it's so refreshing and it's lovely to hear they're so interested in the Welsh language."
Aaron Beacher, Student Enrichment Officer, said: "This has been a fantastic couple of weeks - it's been so great seeing all of our learners interacting with internal and external organisations. Freshers' events are so important to Grŵp Llandrillo Menai as they give our new and returning students a chance to see what support is available.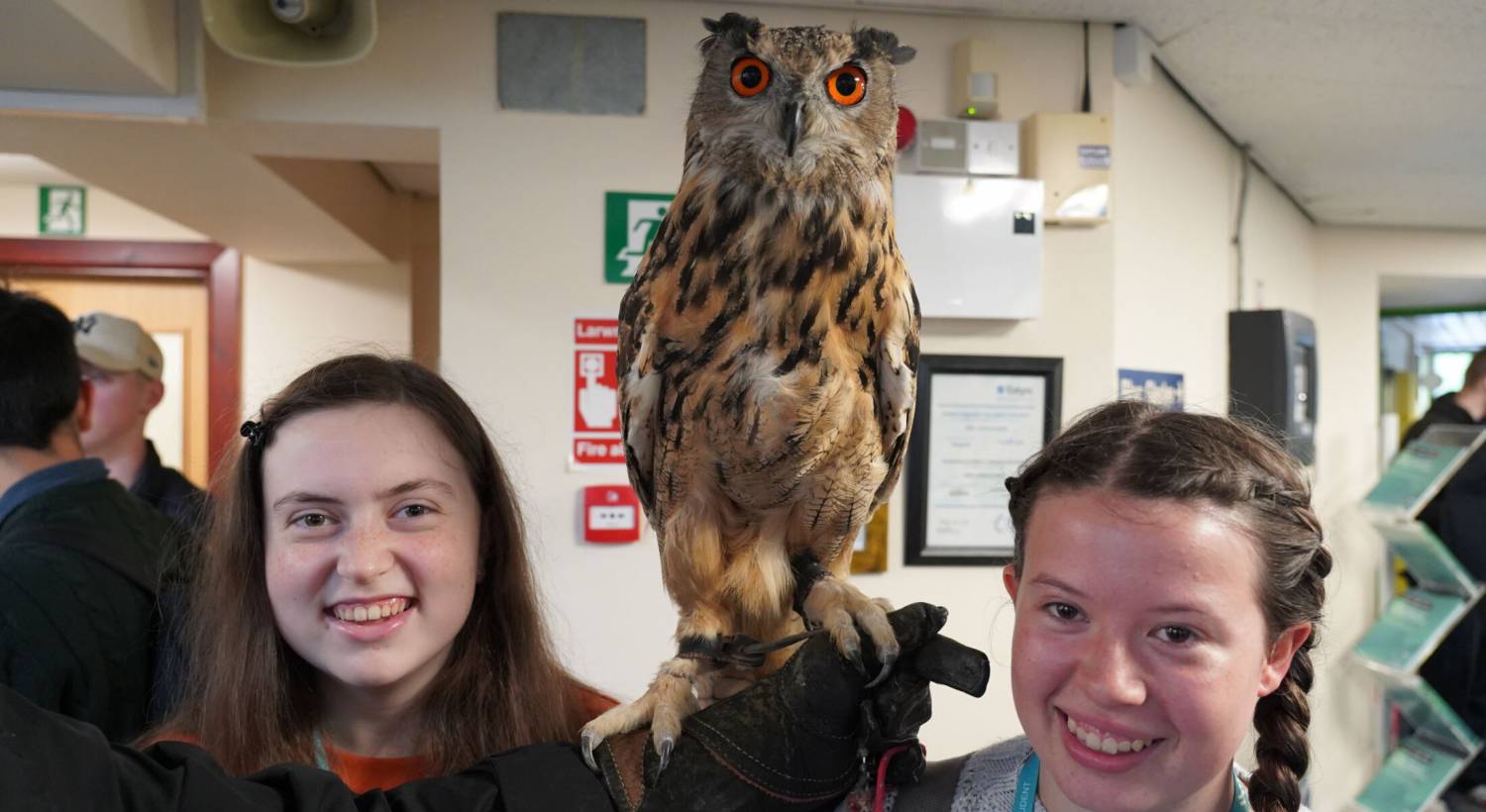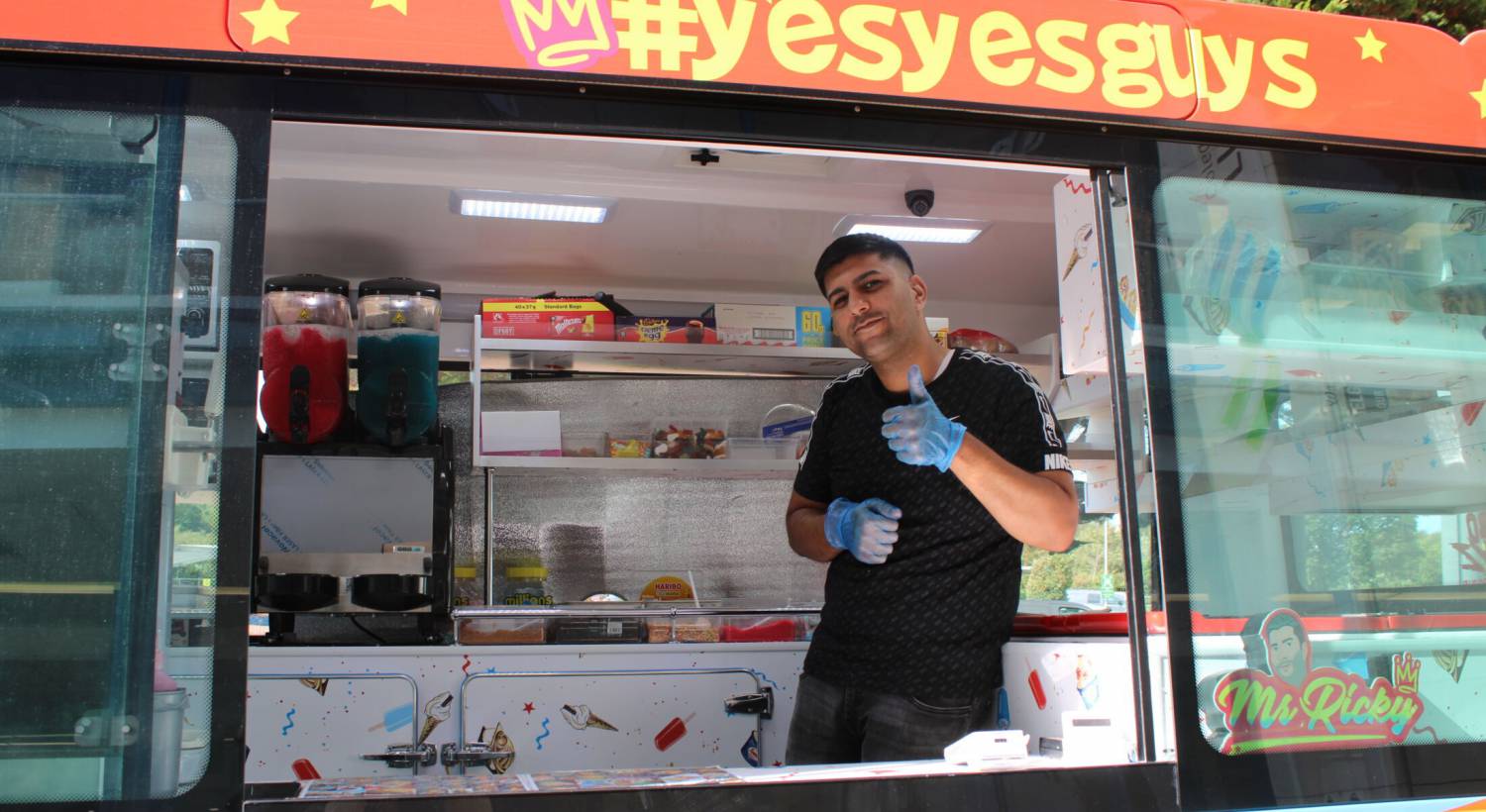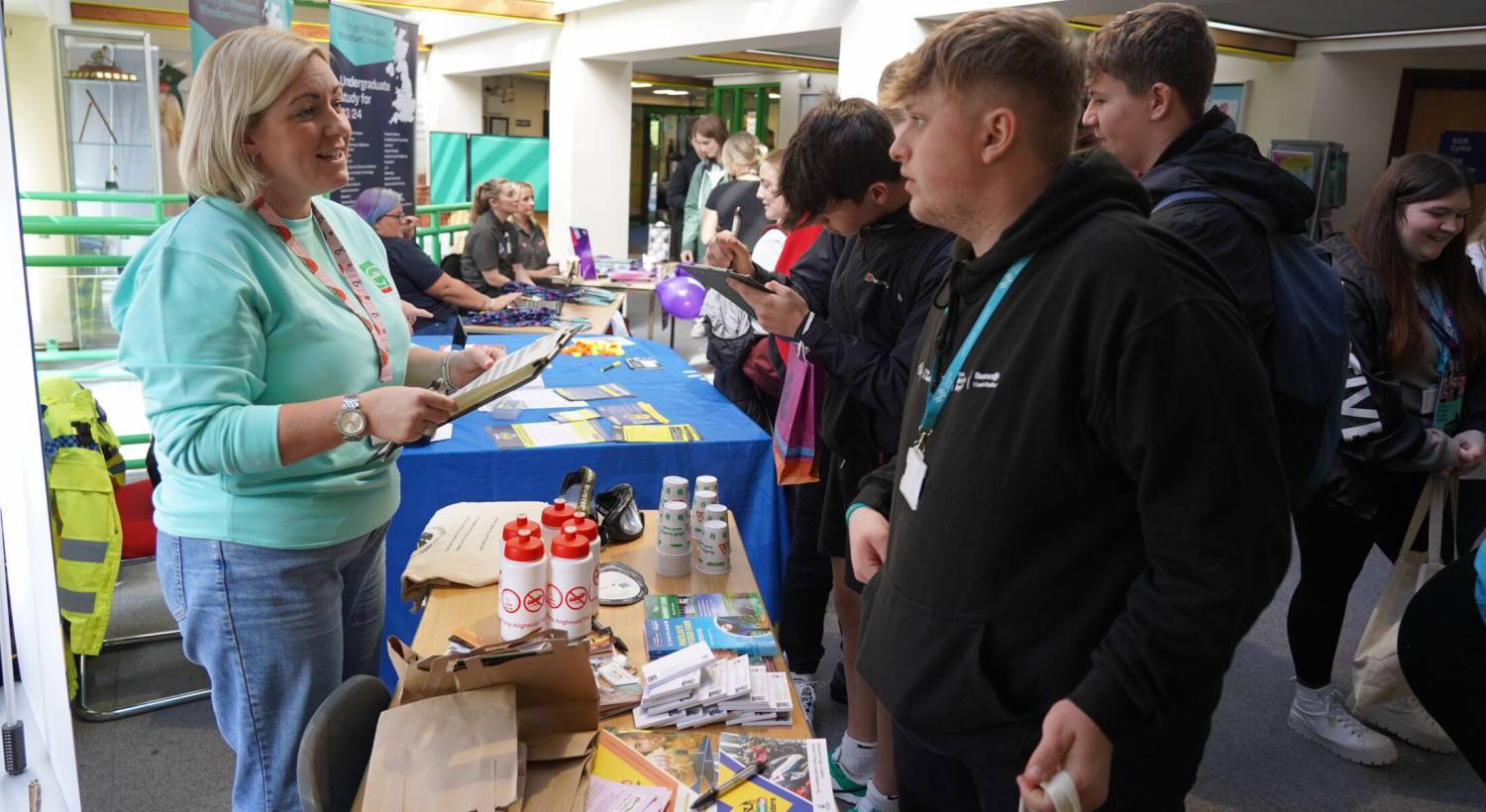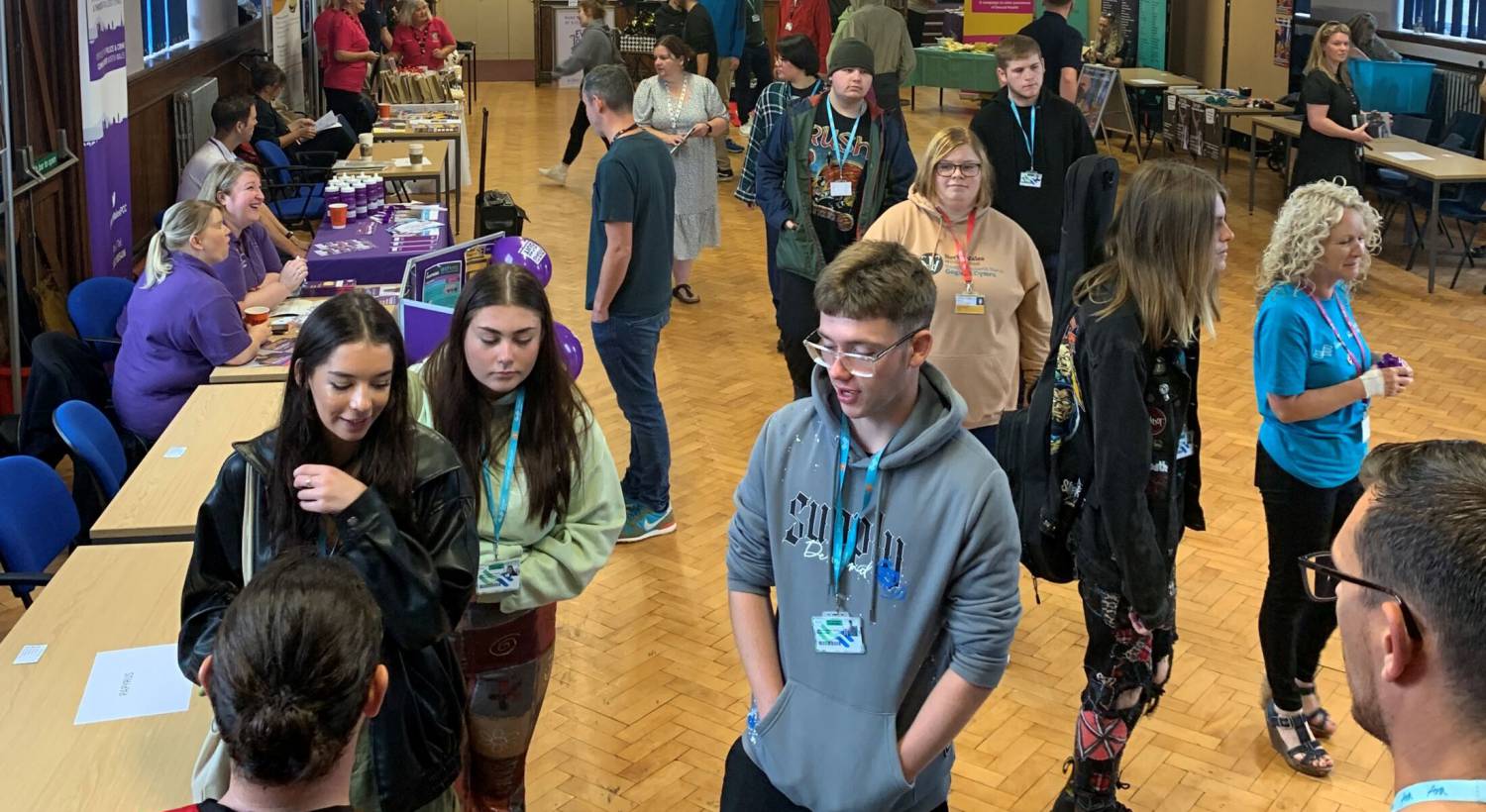 "I've heard some really good feedback from both our learners and staff, and some have said this has been a great way to meet new friends at the college. This is brilliant to hear as this is really important and will have a positive impact on their studies.
"I would like to thank all the external organisations that attended and interacted with our students, along with all our lead coordinators who facilitated the events and made everything come together.
"I am really keen to get more feedback from all the events so next year we are able to carry on doing what we do best - that is, ensuring we give our students the best possible experience within their first few weeks here at Grŵp Llandrillo Menai. Please let me know if you have anything by emailing me on a.beacher@gllm.ac.uk."
Pagination