Another Spectacular Year of Exam Results
Grŵp Llandrillo Menai learners are celebrating after another exceptional year of A Level and vocational results.

23% of A Level learners achieved the top-grades of A* and A, and three quarters of results were graded A* to C. 25% of Vocational learners have achieved the highest Distinction or Distinction* grade, and over 500 achieved a Merit to Distinction* grade in their qualifications.
Learners have been accepted onto a variety of subjects at University including Medicine, Biomedical Science, Veterinary Science, Psychology, English and Classical studies, Engineering, Law and Criminology, Physics, Nursing, Sports and Exercise Science.

Learners will be studying at a variety of Universities, including King's College London, University of York, University of Manchester, University of Warwick, and Bangor University.
31 learners are going to Russell Group Universities, and Kit Moore-Lambe will study Geography at Oxford University having attained A* in Biology, Geography, History and English Language and Literature.
Dafydd Evans, Chief Executive of Grŵp Llandrillo Menai, said,
"Congratulations to our learners who are yet again celebrating exceptional A Level results. Our vocational learners have also achieved outstanding grades, and many of these learners have also celebrated great success in national and international skills competitions."
"These achievements at Grŵp Llandrillo Menai will enable our learners to move on and up to their next step at university, apprenticeships, degree apprenticeships, and achieve success in their future career"
"This success is a combination of the hard work of learners, staff, parents, carers, and therefore I'd like to extend my congratulations and thanks to you all"
"We take immense pride in the accomplishments of our learners, and wish them all continued success for the future."
Class of 2023 Profiles
A Levels:
Leah Rowlands, from Nanhoron, near Pwllheli, achieved A* in both Psychology and Business, and an A in French after studying at Coleg Meirion-Dwyfor. Leah is going to study Psychology at the University of Leeds.
She said,
"I'm so grateful to the lecturers at college, they've been amazing and really supportive. I can't thank them enough".
Teleri Hughes from Blaenau Ffestiniog has secured a place at the University of Liverpool to study Geography after achieving an A* in Computer Science, and A History following her studies at Coleg Meirion-Dwyfor.
She said,
"I loved my time at college, all the staff and lecturers were so supportive".
Coleg Llandrillo's Student Union President, Jordan Hadrill, achieved A* in both Physics and Mathematics, A in Chemistry and A in Biology. Jordan will study Physics at the Imperial College London, with the hope of a career in Academic Research.
Billie Hobson, from Llandudno, is going to The University of Edinburgh to study a Masters in English Language and Linguistics after gaining A* in Sociology, A in English Language and B in Psychology.
She said, "I'm ecstatic, I'm so happy. I've done a lot of work. I needed two As and a B so I've got higher than I needed and I'm really pleased.
"It's been such an experience. I've just been speaking to my friends wishing them good luck, and it's really nice to realise in two years my life has completely changed. Two years ago I didn't know any of these people and I never dreamed of going to Edinburgh, and now that's the next step"
"My tutors have been an incredible help and have supported me through everything. Especially Christian Davies, who has inspired me to find a real passion in English which has driven me to go into my degree. I really appreciate all their help and am incredibly thankful to everybody."
Noone Abdalla, who studied at Coleg Menai, will study Biomedical Science at King's College London, having attained A* in Biology, and A in both Psychology and Chemistry.
Holly Jones, from Criccieth, will be studying Law and History at Bangor University from September after gaining A in English, A in History, and C in Mathematics in her A-levels at Dwyfor Sixth.
She said: "I've had a great experience doing my A Levels at Coleg Meirion-Dwyfor. My teachers have been a huge help in giving support and creating the best student out of me. I'm very grateful."
Enlli Puw from Tal-y-Llyn, Tywyn, who was joined by her younger brother Elgan and sister Elin to collect her results, also studied at Coleg Meirion-Dwyfor. Enlli will study Veterinary Science at the University of Liverpool after attaining A* in both Psychology and Physical Education, A in Biology and B in Chemistry.
Noah Stanway, from Prestatyn, achieved an A* in Mathematics, A* in Further Mathematics and A in Psychology. He is going to the University of Lancaster to study a Masters degree in Mathematics and Statistics including a year's study abroad in either the USA, Canada or New Zealand.
Noah said, "I'm very happy with my results. College has been great, it's been a wonderful change from how school was. The tutors have been amazing. They've been really helpful and have gone through the course material really well, and the campus itself was a lot better than I was expecting. It's been really good for me I think"
"I'm nervous but tentatively excited for uni. It's a big change but it's a good university and the campus looks like a really nice place so I'm looking forward to it."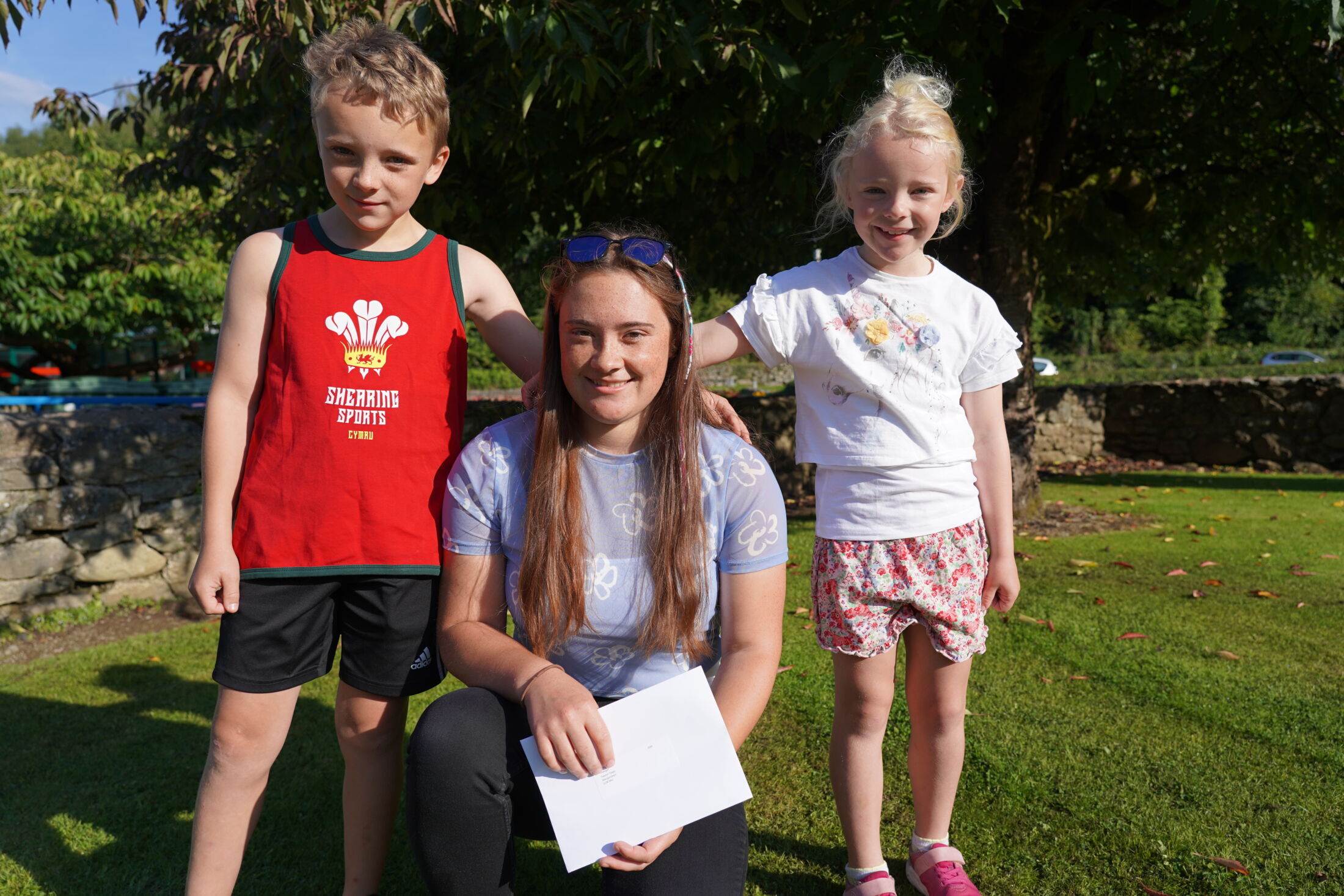 Vocational:
Vocational learners across Grŵp Llandrillo Menai have also excelled, with Coleg Menai's Achiever of the Year, Arian Williams, finishing her time at college with a triple Distinction* in Sports and Exercise Science. Arian, who is also the current Welsh athletics champion over 200 metres and 100 metres, as well as 400 metres indoors, will study Criminology at Cardiff Met University.
She said,
"I am so glad that I came to study at Coleg Menai because I don't think I would have received as much support from any other school or college as much as I got from Coleg Menai"
"This is why I want to thank all my tutors and the wellbeing team, as they have helped me so much to grow over the past two years".
Sion Jones has successfully gained employment as an electrical engineering apprentice with Rehau in Blaenau Ffestiniog after completing his BTEC Level 3 Enhanced General Engineering.
From September he will be studying a Level 3 BTEC in Electrical Engineering at Coleg Menai in Llangefni alongside his work with Rehau.
Sion said, "I enjoyed college, especially the Performing Engineering Operations element. We did a lot with electrical engineering which was obviously very useful for me.
"I had five offers of employment. I applied for Rehau through college and when I had an interview it sounded like a very good opportunity. I'm enjoying it very much, and am learning lots of new skills at the moment including the machinery and how to fix it."
If you've been inspired by the success of our learners and would like to improve your future by starting a course at college on August 31st, contact us to secure your place:
01492 546 666 for Coleg Llandrillo, 01341 422827 for Coleg Meirion-Dwyfor, and 01248 383348 for Coleg Menai.

Pagination