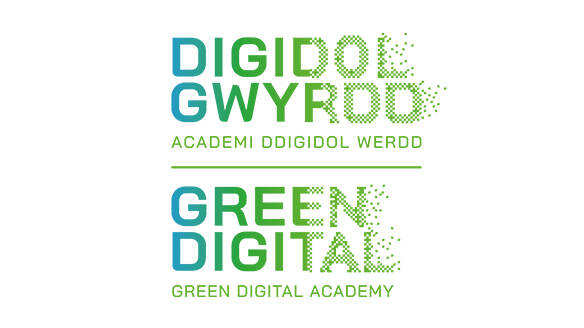 Are you a micro or small business based in Gwynedd or Anglesey?
Would you like to improve your green credentials and reduce your carbon footprint?
Then the Green Digital Academy is here to help you.

What is the Green Digital Academy?
The Green Digital Academy is here to support businesses who see the value of using new digital technologies, but don't know where to start.
Working with a mentor, we can help you to evaluate your current position and develop a plan to access training and funding to support you to reduce your carbon footprint.
Who can access the project?
The businesses must be registered in Gwynedd or Anglesey and be:

Micro - self-employed or less than 10 employees
Small businesses - less than 50 employees
The number of businesses supported are limited on the project and will be added on a first come first serve basis.

Why should you join the Green Digital Academy?
This project will work with you to take your business on an innovation journey to help you:

Gain a competitive edge and boost your reputation as a green business
Understand your net zero and digital priorities and how to take action
Quickly adapt to increasing government net zero regulations and contractor pressure
Expand your business by developing new innovative solutions to sell into the growing 'net zero' market
Meet growing consumer demand for environmentally-friendly products and services
Increase profits, cut production costs and find energy efficient measures
Enhance your supply chain credentials by integrating sustainability into procurement
What will you get?
Through the project you will be able to access fully-funded consultancy support in the form of an expert mentor who will work with you to evaluate where your business is today.
They will help carry out a net zero diagnostic of your business and your employee's carbon output, including car travel, energy usage/consumption, waste disposal and use of materials, as well as a detailed diagnostic on digital capabilities. This will produce an individual framework report and road map for your business.
They will then work with you to develop a plan that will help you access funding and training to successfully engage with and use digital technology to reduce your carbon footprint, and support the delivery of the road map for your business.
For more information
Fill in the form below, or contact the Green Digital Academy on:

green.digital@gllm.ac.uk
08445 460 460
This project is funded by the UK Government through the UK Community Renewal Fund.
The UK Community Renewal Fund is a UK Government programme for 2021/22. This aims to support people and communities most in need across the UK to pilot programmes and new approaches to prepare for the UK Shared Prosperity Fund. It invests in skills, community and place, local business, and supporting people into employment. For more information, visit https://www.gov.uk/government/publications/uk-community-renewal-fund-prospectus